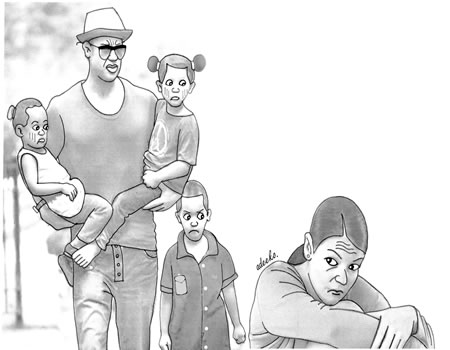 "I'm fed up with my wife. She has no regard for me and doesn't value our relationship. She takes decisions on her own which I frown on. One of the grave decisions she took was to disfigure our children's faces with tribal marks."
Advertisements
"His main reason for marrying me was my money. He gave me no attention nor displayed any affection towards me. He stole my land document and I pray this honourable court to help retrieve it from him."
These were some of the evidences given in court by a couple, Rasheed Ibrahim and Serifat Ibrahim.
Rasheed had approached Oja Oba/Mapo Court C Customary, Mapo, Ibadan, Oyo State, seeking that his marriage to his wife, Serifat be dissolved.
Rasheed in his suit accused his wife of being troublesome and disregarding him. He added that she took decisions relating to the home on her own, thereby usurping his position as the head of the family.
Rasheed further appealed to the court, if his prayer was answered, to grant him custody of their children and restrain her from coming to fight him in his home or work place.
Serifat acceded to divorce when the claim was read to her.
"My lord, my wife is a difficult person to live with. She has almost snuffed life out of me due to her troublesome nature.
"She refuses to listen to my instructions and flouts my orders at will. She has succeeded in usurping my position in the family because she now dictates the tune.
"My wife is in the habit of abandoning our children and travelling out of town without my consent. She will travel for days without leaving a clue as to her whereabouts and will never deem it fit to explain where she went or tender an apology when she returns.
"We argue and fight over this almost all the time, but she has refused to change.
"She has totally failed in her duties as wife and mother. She gives our children little or no attention while she behaves as if I don't exist.
"My wife did the most unpardonable thing when she disfigured our children's faces with tribal marks. Today, our children look out of place and display inferiority complex.
"My lord, my health is gradually failing me but I don't want to die now. I, therefore, pray the court to separate us and handover our children to me because she doesn't have time for them," Rasheed stated.
In response, Serifat said: "My lord, my husband has done nothing but frustrate me since I got married to him. If he wants divorce, let it be, "Serifat stated.
"He got married to me not because he loved me, but because he was interested in my money.
"He has constantly neglected me and our children. He has never been interested in our welfare or our survival because he believes I have what it takes financially to run the home. I work round the clock to ensure there is food on the table always and that our children are well taken care of, but rather than praise me, he complains and picks at my shortcomings.
"He not only  nags but he also beats me. He beats me mercilessly in the presence of our children. I reported him to his twin sister who, instead of mediating in our differences, took sides with him. She went as far as joining my husband in beating me.
"My lord, before you separate us, I pray the court to help me retrieve from him documents that have to do with my land. I bought the land in my name but told him it belongs to both of us. I discovered of late that he had stolen these documents.
"Most importantly, I pray the court to grant me custody of our children because I've been the one taking care of them, "the defendant concluded.
After listening to the couple, the court president, Chief Ademola Odunade, stated that more evidence was needed.
Ruling, he adjourned the case.
The post She usurped my position in the home; disfigured our children's faces with tribal marks —Husband appeared first on Tribune Online.