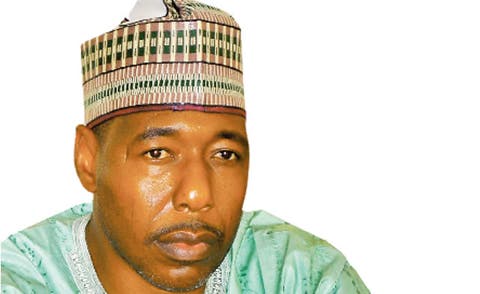 Kayode Idowu, Maiduguri
Advertisements
Governor Babagana Umara of Borno State has said the whereabouts of Boko Haram fighters is known to the security agencies, monarchs and some members of the public in the North-East.
He said this during the North-East Security Summit organised by the Office of the Inspector-General of Police, which was hosted by the Borno State Government in Maiduguri on Tuesday.
Umara said, "The whereabouts of these criminals is known to the Nigerian military, the police, the civil defence corps, the Department of State Services, the traditional rulers and most members of the public.  All that we need to do is to take the war to these criminals' doorsteps. Another important thing we need to do urgently is the restoration of civil authority to the geopolitical zone."
The governor called on the state governments in the North-East geopolitical zone never to allow any of its citizens to be displaced by the Boko Haram terrorists again.
In his remarks, Governor Mai-Mala Buni of Yobe State called for a fresh approach to the war against terrorism since the military option had not succeeded in putting an end to the crisis.
He said, "We strongly believe that while the military's efforts to contain insurgency is necessary, we must actively explore and engage in dialogue. As records show, no conflict of this nature anywhere in the world has ever been resolved solely by military option.
"As we transit to a post-insurgency era with the relative peace that our state now enjoys, there are emerging security threats that we are equally very concerned about.
"The rising cases of rape, kidnapping, robbery, homicide, conflict between farmers and pastoralists and cattle-rustling are challenges we have to confront seriously."
The Chairman, Senate Committee on Army, Ali Ndume, who represented the Senate President, Ahmed Lawan, at the summit, said with the low budgetary allocation to the military and the low number of soldiers and officers in the nation's military, the country might have shown that it was not ready to end this war anytime soon.
Ndume said the Nigerian Army had 154,000 soldiers and 6,000 officers when it needed a minimum of 400,000 soldiers