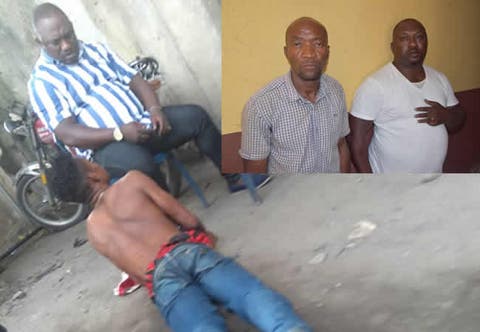 Advertisements
Alleged encounter with one of two men (Insp Ogunyemi Olalekan & Sgt Godwin Orji) suspected of killing Kolade Johnson. Twitter images
One of Kolade Johnson's suspected killers once arrested my friend because of his hairstyle, man claims
Sequel to the release of the identities of two men suspected to have shot dead a Lagos youth, Kolade Johnson, some Nigerians have alleged that it was not the first time that one of the suspects would be involved in unethical behaviour towards members of the public.
Oluwasegun Haziz with Twitter handle @hazizsegun, had posted a series of tweets about his friend's encounter with "the man with big stomach."
Haziz had described the burly suspect as "head of NPF Anti-Cultism Department at Charlie Boy, Gbagada (Police) Station," where he is allegedly known as "Omo Eko" (Lagos child).
Haziz narrates, "At around 3:15pm on Thursday March 21, 2019, one of my team members came back to the office informing us (that) our colleague was arrested when they were returning from lunch break at Queens Street, Sabo, Yaba.
"He reported that he (the colleague) was dragged into a Danfo (commercial bus) and driven away.
"Along the way, they were picking boys on the street who have not committed any offence but were picked because of their hairstyle.
"On getting to reach him, he (the colleague) told us that he's at Charlie Boy (Police) Station.
"Getting to Charlie Boy (Police) Station, I was asked to sign in, pay for signing in, which I refused, dropped my phone and proceeded to meet Omo Eko who's their leader.
"On speaking with him, he told me (that) to set him free, I must pay 5-0 (meaning 50 thousand naira).
"Kindly note that they were not taken to the main building. They were attended to by the side in their premises/compound, which shows it's an illegal raid.
"I made some calls and someone from PCRC (Police Community Relations Committee) Ikeja called the Charlie Boy (Police) Station office and someone came out.
He informed Omo Eko that he should set my guy free because he got a call from Ikeja Command.
"Then and there, he changed his tone to a calm one and told me I am using power from above and insisted I drop 5k cash, which I did to leave the place at around past 6p.m.
"I also witness (sic) someone without help paid (sic) 50k cash on the spot. They were allowed to make one call for help."
The 12-day-old tweet posted on March 22 had ended with a plea to the Lagos State Police Command to "please do something;" adding, "This is how SARS started terrorizing the environment."
The series of tweets were also accompanied with a photograph of a half-clad young man with 'funny hairstyle,' prostrating on dirt-strewn ground before a burly figure in mufti, who looks like one of the two policemen suspected of murdering Kolade Johnson in cold blood on Sunday evening.