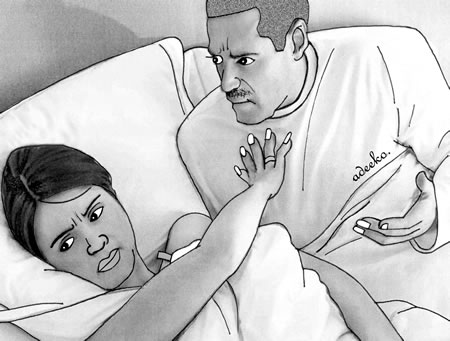 Idi-Ape Grade C Customary Court, Ibadan North East, Oyo State, has dissolved the 13-year-old marriage between Olaleye Olakunle and his wife, Adebisi Olufidipo.
Advertisements
Olakunle, who dragged his wife to court, stated that he was fed up with their marriage because his wife was non-supportive and not trustworthy.
According to the plaintiff, the defendant  never supported him while he had challenges. He added that she had a child in her previous marriage and never told him until after a year and two months that they  were married.
Olakunle thus prayed the court to dissolve their marriage.
"My lord,my wife  was non-supportive throughout the time she was with me. She  was  also not trustworthy and it took the intervention of her mother before she told me  a year and two months after we were married that  she already had a child in her previous relationship.
"She kept late night, stayed  away from home without prior information and traveled  at will.
"She never  cared about my progress or  that of our children. She denied me sex for 10 months before she packed out of the house for over a year now.
"When I had issue with my job, she was not helpful and was carefree until I met a prophetess who helped me to borrow  money to travel out of the country.  I had to bring the prophetess to our house when she was sent  packing by her husband and I told my wife this before the prophetess moved in. She ceased to give me rest of mind since then.
"I reported her to her brother in Lagos but rather than change, she got worse.
"My lord, my mind is now made up, please separate us," he pleaded.
Adebisi pleaded with the court not to dissolve their marriage.
"My lord, please don't separate us , "the defendant  prayed the court.
"I  stood by my husband when he had nothing. I took him to a prophetess to pray, but he ended up marrying this woman who later moved into  our house.
"He took to beating and embarrassing me. He neglected me and denied me sex for  ten months.
"When he got married to the prophetess, he told me not to tell anyone but I had to inform my mother when I couldn't hold it any more.
"I moved out of the house with my children when he almost beat me to death.
"He called me recently to bring the children to him and I did but since then  the children had refused to come back to me," she stated.
Having listened to the claim of both parties, the court president, Mr Moses Oyekanmi, dissolved their marriage having found that there is no love between both parties and having been apart for more than a year.
The post My wife is non supportive; denied me sex for ten months —Man appeared first on Tribune Online.