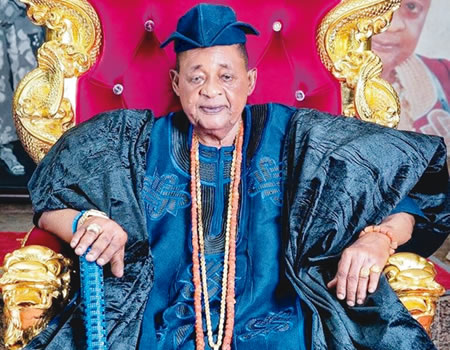 Not many are aware that there is a strong bond between the Alaafin of Oyo, Oba Lamidi Adeyemi and the Awujale of Ijebuland, Oba Sikiru Adetona. The two traditional rulers have passed through thick and thin and come to a realisation that theirs is a destined relationship. The Alaafin, in an interview by TUNDE BUSARI, gives an insight into his relationship with the Awujale, just as he addresses other issues.
Advertisements
The Awujale of Ijebuland, Oba Sikiru Kayode Adetona is arguably the longest reigning Yoruba traditional ruler having spent 59 years on the throne. There seems to be a synergy between the two of you, a bond I have not seen in other traditional rulers. What is responsible for this?
Once you know that the Awujale, His Imperial Majesty and Paramount ruler of Ijebuland, Oba Dr Sikiru Kayode Adetona (the Ogbagba II) is the longest reigning king in Yorubaland, you ought to have gone to him to ask this question.
I have not but I want to use my proximity to you to inform the public better about your relationship. Can you trace the history of your relationship?
Let me start by recalling that I attended his coronation in 1960. Alongside three of my friends from Lagos, we travelled down to Ijebu-Ode to witness the occasion. He was in London when the immediate past Awujale passed away. He was studying Accountancy in the United Kingdom then. He was just 26 years old. History has it that I was at his coronation.
Abuja club raid: Police to penalise erring officers
Did you have a relationship before he ascended the throne? And did he see you at the coronation ground?
There was no relationship between us before then. But I learnt that he had worked in Oyo as an administrative secretary before he travelled for further studies in UK. He would not have seen me among that large crowd that came to witness the coronation.
What was running through your mind while watching the coronation proceeding?
I was watching him and getting inspired somehow. Though, he is older, I got fired up as a prince that one could become king at such age. I was, at the same time, wondering how he would shoulder the big responsibilities of being a traditional ruler over the old men and women. In the process, I was praying for him to succeed. From the distance where I was standing, I saw a confident person in him, despite his youthful age.
How and when did you first meet him?
We first met at the Western State Council of Obas and Chiefs in Ibadan in 1971. That was soon after my own coronation. I walked up to him. I can say that he picked interest in me from the outset and gave me the support needed to stabilise the throne. He invited me to Ijebu-Ode and had a frank talk with me on how to be a successful traditional ruler on the throne; a traditional ruler who would not be a pawn in the hands of his well-to-do subjects. He told me pointblank that for a traditional ruler to be successful on the throne, he must be financially independent. He shared with me his experience in the early years of his reign. He also told me a lot of important things a traditional ruler must do to earn the respect of his subjects. I can recall that he called the late Chief Emmanuel Oyedele Ashamu, who was my strong supporter during the succession race. Chief Ashamu was an Oyo indigene and a very successful industrialist based in Lagos. He stood by me with his resources. He was wealthy, and did not spare anything to ensure I got to the throne of my forefathers. I was young, sharp and suave, in terms of public appeal in what I wore and how I comported myself. Don't forget I came from Lagos where I was already exposed to upscale life as a young man in his early 30s. So, knowing the role he played and his financial status, the Awujale told him what to do. The rest is history.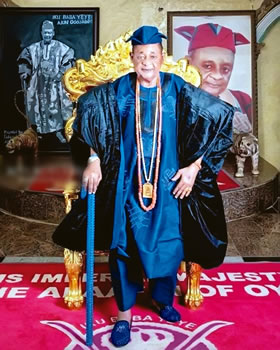 What did the Awujale tell the late Chief Ashamu?
If you know Awujale very well, he does not have time to play on words. He told Chief Ashamu pointblank that 'you cannot afford to abandon your king in the palace and return to Lagos.' He told him to open a special account for me through which I would access money to sustain myself. He told him that the palace is home to everybody, which means it is expensive to run. I can tell you that the Awujale played this role well and it yielded results. Having considered this and other things which Awujale has done, my conclusion is that to have another Awujale of this class would take another century. I am saying this with every sense of responsibility as one, who has over the years, shared many things with him both in public and private. He is a phenomenon and symbol of what a Yoruba oba should be.  Have you heard of any politician trying to insult him? It won't happen. That politician would think twice before he engages Awujale because he would find him too hot to handle. I am not saying some did not make some attempts.
Have you a particular incident in mind?
I can easily recall one that occurred during the Second Republic. The incident was regular cover story in the newspapers back then. The point is that at the end of the day, Awujale remains unshakable. Unfortunately, my own father was not as lucky when he had similar experience on the throne. He did not survive it. One can now say that the sacrifice which my father made paved way for me to become the Alaafin after his successor passed on. But I will always tell you that all that had happened in the past has gone into history. I have no bitterness or wound to nurse because I always look at issues from different perspectives with a view to having what I can call aerial view. They say two wrongs cannot make a right. The inference is that if you are wronged, the best thing is for you to walk past it and move on with your life because if you allow that wrong too much space in you, it would cause stagnation for your life. The Alaafin is an institution, a sustainable institution which is superior to individual manipulation. I thank God for his blessing over me from 1971 till date. I thank him for sustaining me with good health, contentment and capacity to uphold Yoruba cultural heritage home and in the diaspora. A mention of the Alaafin anywhere attracts special attention. Without sounding immodest, just note and mark my word that it would also take another 100 years to have another Alaafin of my composition. This is not a boast or pride or exaggerated statement. It is the truth. It is the truth based on empirical evidence which anybody, especially scholars, can relate with. At my 80th birthday, I made a public presentation of a compendium titled The Alaafin of Oyo: Power of Courage and Conviction. The book contains memos, letters and speeches which I have made over the years. What does that tell you? It shows that I have made myself available for verification. I have nothing to hide, hence, the urge to write such volume of book. You have a copy and must have read and understood what I am talking about.
Your claim that it would take another century to have another Alaafin of your stature sounds more of self-glorification. Don't you see it that way?
There is nothing like self-glorification in a claim which is based on what is on ground. By now you ought to know more about me, as regards my cordial relationship with important literatures on different subjects. Anyone who is widely read can be called any names, and he does not mind because he sees beyond those who call him names. Knowledge is power and that is the truth. When you are knowledgeable, you are respected by equally knowledgeable people and at the same time vilified by those who are not knowledgeable. I am not appropriating knowledge to myself because no one has monopoly of it. But what I am saying and emphasising is that even at my age, I buy books and read them. I read them religiously, not to sit for any exams but to expand my knowledge base. Knowledge, they say is acquired from the cradle to the grave. So, as long as God gives me this good health, so long I will seek knowledge and spend my money in understanding new things. This is my worry for your generation. You seem not to appreciate knowledge. Your priority is entertainment. There is nothing wrong in entertainment but it should come after you must have subjected your brain to rigorous works.
With the superlatives you have poured on the Awujale, does it mean you don't quarrel?
Perhaps, you want to say 'does it mean you don't disagree?' If we disagree, would you be there? What you should know is that we have enjoyed a very cordial relationship for almost 50 years and we are still counting, so to say. If you have somebody who holds you in confidence and stands by you in all weathers, you have no choice than to respect such person. In other words, I respect the Awujale for what he symbolises as a truthful traditional ruler. He does not entertain liars around him. He likes to be told the truth irrespective of the circumstance. For instance, if he hears or reads anything about me or I hear or read anything about him, within seconds, we are on phone where we discuss the issue extensively and critically. If Awujale asks me to come to Ijebu-Ode for breakfast tomorrow, you meet me there before nine o clock. He is a time conscious person who does not tolerate lateness.
You must have probably been caught arriving his palace late to take note of this. Have you?
Incidentally, time consciousness is one of the attributes which we share. I was trained to appreciate the importance of time in human life. Time is a precious thing but which man easily takes for granted. If I give you my word to attend your event, I won't arrive late. It is impossible. If I don't arrive before you start your programme, I must be there just after you started. If I know I would be late, I will rather not promise to attend your event. Then I will give you whatever I want to give you ahead of the event.
The post My relationship with Awujale, by Alaafin appeared first on Tribune Online.