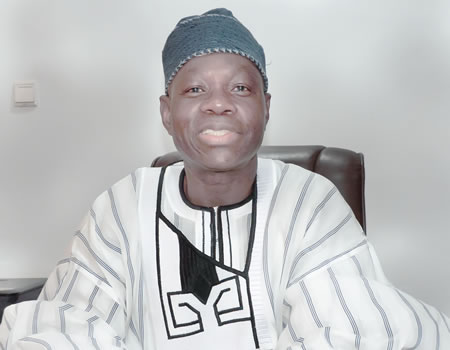 A lot of people were surprised that you defeated Governor Abiola Ajimobi of the All Progressives Congress (APC) in the just concluded senatorial election for Oyo South District, as Ajimobi's victory appeared to have been a fait accompli, having served as governor for eight years. You must have spent billions of Naira to buy votes in order to defeat a serving governor and a serving senator…
Advertisements
I had no billions of Naira to spend; I still don't have it. If you say my victory was a surprise to many people, I will say yes, it could be. But it was not a surprise to the grace of God.
Grace of God? You defeated two incumbents…
There is really nothing new in defeating an incumbent governor in a National Assembly election; there are precedents all over the place. Recall that a former governor of Benue State, Gabriel Suswam, after serving as governor for two terms lost out in the senatorial election. Similarly, former Governor Babangida Aliyu of Niger State ran for Senate and lost, despite having served for two terms. This is not the first time that an incumbent governor will run for Senate and lose. I have said it several times at some of my media appearances when I was asked this kind of question: I always said that 'look, empires don't last forever, neither do emperors.' I also thought at that time that it was incumbent on the incumbent, be you governor or senator either you are running for a second or third term or what have you, it becomes very important for you to convince the people based on your record of performance. You need to convince them on why they should vote for you one more time. I was coming from a position where all I had was the record of performance in a few political offices I have held. But for them, they had a lot more to do to convince the electorate. So, I came up with my own agenda, which had the people at the centre. I approached them and convinced them that I would be a better representative and they accepted. But more importantly, it was the grace of God that made it possible.
From the African worldview, there is a belief in destiny and Islam and Christianity all hold the belief on predestination. Your elder brother, Senator Lekan Balogun, was a senator and you have also been elected and that too at a point that no one looked in your direction to win the race. Has this been foretold or it is just a coincidence?
Nothing was foretold. But I do know that God gives power to whomsoever He wants and He takes power away from whomsoever he wants. For me, there is no way we will talk about the outcome of this election without bringing God into it.
But the opposition APC is still finding it very difficult to let go of the seat you now occupy; they have been throwing everything at you, including saying that you are less qualified to hold the seat ahead of the incumbent governor. Do you think they are wrong?
I don't know what you or the opposition mean by being less qualified. I look around my political environment and yes, I see a lot of people who are better qualified, I am also in the league of those who are qualified by any means. If you talk about political experience, I think I have it. Talk about educational qualifications, I have it. Talk about having absolute commitment to service delivery, I have that too. So, when you talk about being less qualified, I don't understand what you mean by that. You may need to go back to the opposition to ask them what they mean. If the voters had felt that way, they would not have voted for me. So, what is important to me is what the voters in my district have said and not what the opposition is saying. You cannot expect the opposition not to say anything; even when it is nonsensical, they must still say something. So, I am not blaming them for saying anything, but the important thing is that I am more worried about those who will write my report cards; these are the electorates in my district and the Nigerian people.
They have filed a petition against your victory at the National Assembly Election Petition Tribunal, are you not jittery that you might lose the seat?
Before that election, some people asked me where I got the confidence with which I responded to reporters' questions from. They asked me why I was so confident about the election and I told them I didn't know why but that I say things as I see them. If I was not jittery at that time when we were confronted with all kinds of things about opposition's tactics and plans to rig the election, why should I be jittery about what goes on now when the people have spoken? Why should I be jittery when the ruling and decision of the court are supposed to be based on facts? If anybody is talking about malpractices during the National Assembly election, we all knew and we still know now that PDP was not in the business of rigging in that election, especially in Oyo State. Everybody knows that God and the people of Oyo State were on our side. I was at a meeting in Abuja recently and everyone was saying that the Oyo State election has become a model for the rest of the country; it was an election in which people shunned money to vote for merit. Talk about the power of incumbency, money and all that, everything was stacked up against the opposition but in the end, the election in Oyo State was revolutionary. People revolted against hopelessness, unemployment, hunger and poor state of our economy. People revolted against the fallen standard of education; they revolted against lack of standard in our health care delivery system, agriculture and so on. That election was revolutionary; there is no other way to look at it.
You made some promises to the electorate, which made them accept you and vote for you at the polls. Going forward, how do you intend to do things differently regarding the representation of the people of Oyo South in the Senate?
What is paramount on my mind now are those campaign promises that I and my people have made to the people of Oyo South Senatorial District. I am already looking at what I can do to make my own contribution to the development of this district. I am going to do whatever it takes to contribute my quota to developing Oyo South. On a general note, I will be contributing my quota to the development of this nation. I will looking at what I can do to support any legislative agenda that will strengthen the judiciary, make our electoral commission to be truly independent and make the judiciary and the legislative arms of government to be fully independent. I will make efforts, by means of legislation, to give Nigeria a proper federation, because though we are called the Federal Republic of Nigeria, we are still struggling to be a republic and there is nothing federal about the country. We need devolution of powers.
The PDP has been able to produce the governor of Oyo State, while you have been elected to represent the senatorial district that covers the state capital. Can the people count this as a blessing or look forward to the usual rivalry between governors and senators in distant time?
The governor-elect and I are not just from the same party; we are from the same local government. Some people thought it would not be possible to have the governorship candidate and senatorial candidate from the same local government and some party members were afraid. But I saw it coming a long time ago and I knew a long time ago that the election would be a peculiar election. I knew that voters had risen above that sentiment and that what they were looking for was beyond such sentiment about governor and senator being from the same local government. So, for the governor-elect and I to have come from the same party and the same local government is a blessing to the people of the constituency and the state.
I also have to tell you that the governor-elect and I share a common faith. You would recall that I campaigned for governor and refused to be bogged down by undercurrents in the political circle and that is why I am here today. The governor-elect has also been in the struggle for some time and he never gave up; he didn't quit. He continued to do a lot of things to uplift the society and make life better for people; giving scholarships, helping the needy and even providing infrastructure. When you have people who commitment to using whatever privilege they have to serving humanity, I think we should give them a chance.
So, the governor-elect and I have a common vision and we have a lot of things in common; I do not see any sort of friction that you have envisaged. I am happy with the senatorial seat and I said that during the electioneering. As a matter of fact, he stood as a surety for me during the campaigns and I also stood as a surety for him to some people during his campaign. We both believe that Oyo State must move forward in the right direction.
The post Oyo South: How PDP defeated Ajimobi —Balogun, senator-elect appeared first on Tribune Online.