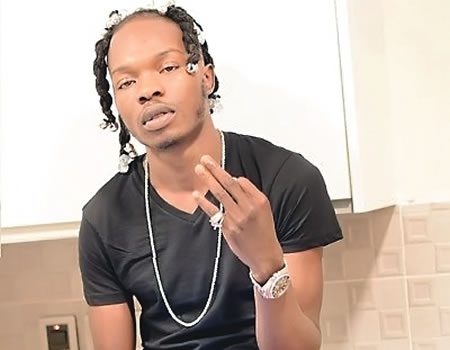 Nigeria's fast-rising musician, Afeez Fashola, popularly known as Naira Marley, had planned to celebrate his birthday in grand style on Friday but a twist of fate would not let him have any of that as he was arrested by the operatives of  the Economic Financial Crimes Commission (EFCC), whose operatives  swooped on him and others in the early hours of Friday.
Advertisements
The singer, has been in the news for weeks following his public videos and statements where he seemed to be glorifying Internet fraud, known as Yahoo Yahoo in local parlance. Marley who broke into the music industry with his popular track Issa Goal came under attack from many people, especially notable entertainers, who condemned him for his public support of cyber crime.
He would later come out with another video where he claimed that proceeds of internet fraud were helping the country's economy to run smoothly. According to him, Nigeria's economy has continued to thrive on the proceeds of internet fraud as government had failed in its responsibility to care of the people.
Marley, during a recent Instagram live session, urged Nigerians to pray for internet fraudsters (Yahoo boys) saying they are the reason money circulates to the common man.
He said: "All you guys, all the money in your pockets, all the money you spend, you think it's the government that is making the money go round?"
The video has since stirred reactions from Nigerians who described Marley as a disgrace and bad example to young Nigerians.
Investigations by R on Friday revealed that the anti-graft agency had been monitoring developments around the singer and his friends in the last few days and were said to have gathered enough evidences to nail the singer.
Confirming the arrest on Friday, spokesperson of the anti-graft agency, Toni Oriade said the singer was in EFCC's custody after he was arrested alongside some of his friends on Friday.
Asked what led to the arrest, Oriade said he could not say much about the arrest, adding that Marley and his friends were currently giving the agency some useful information in relation to internet fraud and other cyber offences.
"Yes, he is with us. He's not the only person; he had some other persons also arrested alongside (him).They were arrested in relation to advance fee fraud — Internet-related cases and all of that. Give me a little time and I will get you the details," he said.
It was also learnt that another popular rapper, Omoniyi Temidayo, popularly known as Zlatan Ibile was also nabbed by the EFCC on Friday. Zlatan and Marley are close friends and have appeared in series of videos together.
R learnt that Zlatan was picked up by EFCC shortly after the arrest of Marley. The duo were said to have woken up to the waiting hands of the agency Laptops and phones of the musicians were said to have been seized and subjected to forensics' examination to determine their link to cybercrime.
Information gathered by R on Friday evening suggested that singers might spend the weekend in EFCC cell.
The post How Naira Marley marked birthday in EFCC cell appeared first on Tribune Online.