By Dennis Agbo
Advertisements
ENUGU- THE Eastern Peoples Front, EPF, has disclosed that it is mobilising 26.7 million prospective voters of Igbo ethnic origin for the Presidential candidate of the Peoples Democratic Party, PDP, Alhaji Atiku Abubakar and his running mate Mr Peter Obi.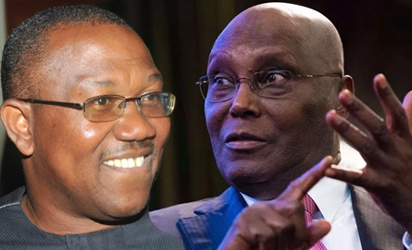 EPF said because it is a political activist group concerned with Igbo political affairs, it settled for the PDP Presidential candidate whose ticket provides pathway for Ndigbo in Nigeria.
"Atiku is the only one committed to handing over to Ndigbo and he has pledged to reposition Nigeria because the country has never been as divided as it is now" the group said.
In a press conference in Enugu, Monday, National leader of EPF, Elder Ken Emechebe flanked by former minister for power, Prof Osita Nebo, Senator Azu Agboti from Ebonyi state, Dr Ifedi Okwenna, among other representatives from the south east states, said that the group is in complete agreement with Ohanaeze Ndigbo's endorsement of Atiku/Obi for this Saturday's Presidential election.
"Anybody who speaks against Ohanaeze speaks for himself because the Atiku/Obi ticket is the only practical way to Igbo survival in Nigeria.
Igbo pressure group faults Army's planned clampdown on IPOB
"President Buhari has done his best but our position is that his best was not good enough for us. His administration treats Igbo like aliens in Nigeria.
"There are  26.7 million registered voters of Igbo origin and we are getting them to vote for Atiku. Our hope is that 16 million of these voters will vote for Atiku," Emechebe said.
On his own account, Prof Nebo described the suspended National Secretary of Ohanaeze Ndigbo, Uche Okwukwu and his group that went and presented themselves as faction of Ohanaeze before President Buhari, as charlatans.
Nebo stated that "President Buhari is suffering from Igbofobia. Our people are being slaughtered in their thousands. It is a pathological hatred on Ndigbo. We have no choice for Igbo survival except for Atiku/Obi."