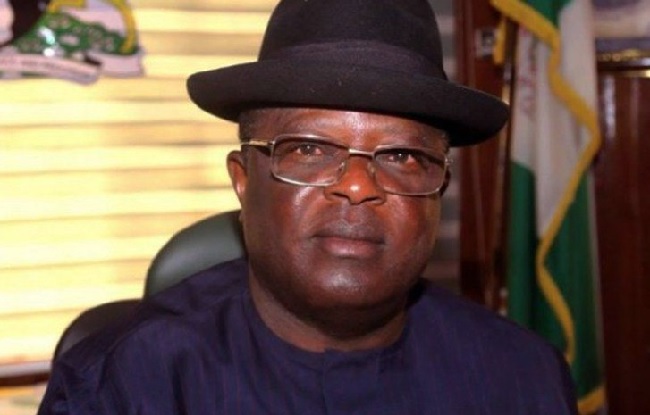 Economic and Financial Crimes Commission (EFCC) has commenced investigations on governor David Umahi-led government over N6.7billion naira belonging to the 13 local Government Area of Ebonyi State.
The position of the EFCC was contained in an acknowledgement letter dated February 11, 2021, signed by the Head, Economic Governance, Adebayo Adeniyi, addressed to the principal partner, Amos Ogbonnaya and Co. Ebekuedike chambers.
This is in response to a petition it received from G-64 Former Coordinators' Forum of Ebonyi State, through Amos Ogbonnaya and Co. Ebekuedike chambers.
This response was followed by a petition written to EFCC by the former 64 Development Centers coordinators alleging that Umahi-led government diverted the Ebonyi local government funds of 6,756,800,000.00 (six billion, seven hundred and fifteen six million, eight hundred thousand).
The petitions read "The commission is in receipt of your petition on the above subject dated 11th January 2021 and this is to inform you that investigation has commenced.
"In view of the above, you are kindly requested to inform your clients to release a representative who is conversant with the matter to attend an interview with the undersigned through O/C team 5, Economic Governance section on 25th February 2021 at the EFCC headquarters, plot 301/302 institutions and research districtsJabi, Abuja."
Recall that the former aides of the Ebonyi State Governor, David Umahi, under the auspices of G-64 Former Coordinators' Forum of Ebonyi State, had petitioned the Economic and Financial Crimes Commission over what they described as the alleged "misappropriation of statutory allocations of over N6,756,800,000.00 belonging to the 13 local government councils" by the state government.
They had in the petition dated January 11, 2021, and signed by their lawyers, Amos Ogbonnaya and Co., Umahi's former aides claimed they were short-changed by the Governor and called on the anti-graft agency to investigate the shoddy deals, which according to them, had yet to be accounted for.
They claimed that they were paid a paltry N101,000 monthly instead of the statutory N400,000 alleging that they were compelled to sign off N672m in 2017 from the local government councils' account to the state government, ostensibly in exchange for three lock-up shops at the Magaret Umahi International Market, Abakaliki.
The petition read in part, "Our clients were, at various times between 2015 and 2019, appointed coordinators of the 64 development centres in Ebonyi State.
"While some were relieved of their appointments in 2017, others were relieved in 2019 and 2020.