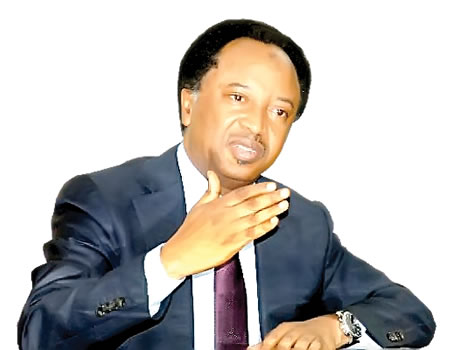 Recently, you moved a motion concerning security which was supported by other Senators as regards insecurity in the country. Kaduna your place has become the epicentre of these crises. Are you impressed by the government's strategies so far in combating these crimes and criminalities?
Advertisements
First of all, Nigeria is in a state of war. Northern Nigeria is under siege. From the North-East, it is the insurgents that hold sway, attacking people and unleashing mayhem. In the North-Central, it is communal clashes, religious clashes, herdsmen's killing and burning innocent people. In the north-western part, it is bandits that are kidnapping and killing people, unleashing evil in the states of Zamfara, Kaduna, Niger, Katsina and some part of Sokoto State. The government has completely demonstrated incapacity and incompetence in terms of addressing this very existential danger. If the North continues on this evil deeds, the whole region will be consumed and all parts of Nigeria will be destabilised. Thousands of people have been killed and thousands of people have been displaced.
When I used to be the lone voice speaking out against these threats of kidnappings and banditry, some felt that we were simply trying to exaggerate issues or raise unnecessary false alarm or we were simply doing it to gain cheap popularity or we were simply being critics. Now, it has reached a point that not only the poor are affected but also the rich and the powerful.
The kidnappings of traditional rulers, political figures, top civil servants and rich people in the society has shown how a nation can be incinerated and be consumed if the leadership does not live up to its responsibility. As far as I am concerned, the government is still yet to come out with an effective and workable strategy of combating this menace and danger.
The Inspector General of Police, following your motion, visited the Senate. Would that not be an assuring instance of some steps being taken?
First of all, the visit of the Inspector General of Police on invitation is a testimony to the determination of the new IGP to respect the parliament and also be amenable to suggestions and ideas that will address the issues. If you can remember, in the last two years, there had been a standoff between the parliament and the police right before President Muhammadu Buhari and that has not helped matters but aggravated the situation and led us to where we are today.
From the briefings of the police, I can see that they have been faced with a lot of challenges which certainly can only be addressed if they will be better funded, better equipped and more persons recruited into the personnel for them to be able to work. It is simply not about employing thousands of people into the police and pumping money but I is also about using the appropriate, necessary and relevant technologies to detect these criminals and take them out.
It is clear to every person that if we are to go ahead along this route, there will reach a point whereby you cannot even move outside of your house. The killings that started from Zamfara have taken over parts of Birnin Gwari in Kajuru, Kaduna State, Niger State and it is moving towards Abuja. If care is not taken, Abuja will be as unsafe as Kaduna, Niger and Zamfara states.
Have you, in your capacity as a human rights voice and as a senator of the Federal Republic, made representations to the police and other authorities?
I don't think there is anybody who has spoken more than me in the National Assembly on the issue of insecurity in the North, except, perhaps, Senator Kabir Marafa who is from Zamfara State. But I can tell you that out of my seven local government areas in Kaduna, a chunk of them have been so insecure. Birnin Gwari is virtually under the control of dare devil killers and kidnappers. Kajuru has become a hotbed for ethno-religious crisis and a no go area.
In parks of Chukun and Giwa local government areas, kidnapping has become a daily affair. Even within the city of Kaduna, people now go into their homes as early as 7.00pm to 8.00pm and you can see what is happening in such a peaceful state, one that has been so respected and visited as a choice for many people. You can see the tragedy that happened in Kajuru Castle where tourists were killed.
I did a lot in terms of sponsoring motions and financially contributing to the issue. I bought some vehicles and communication equipment to some of the vigilante groups. But these are trickles. If we don't address these security issues, we are all going to be consumed.
It is inexcusable to say the president is from the North; the Chief of Army Staff and other service chiefs are all from the North; the Inspector General is from the North; the Minister of Defence is from the North; and that all the people holding relevant security positions are all from the North and we have been faced with this kind of danger. You also look at it from another point of view: the Nigerian governing political elite are not serious about security in this country. But now, their lack of seriousness has led to a point that they too are going to be consumed by it.
There are two examples to show you that if we are serious about security, we could have brought security to Nigeria. The first was last year when the Nnamdi Azikiwe Airport was closed down and then flights had to be diverted to Kaduna and then everybody had to move from Kaduna to Abuja, there was zero kidnapping, there was zero killings right from Kaduna up to Abuja because the security were all there.
Secondly, during the 2019 elections, governors brought out security funds, funded the army and the police to ensure watertight security. There was no kidnapping. But immediately after, the North has become a hotbed of kidnapping today.
Part of the reasons why we have allowed security to collapse in Northern Nigeria has to do with the attitude of the elite from the region. If it was a southerner that was presiding over the country like during the era of President Goodluck Jonathan, you can remember how vocal they were; how critical they were; how they were applying pressure on the Federal Government to do what needs to be done. But because a northerner is in power, they choose to sit on the fence; they choose silence and now the whole region is being consumed.
One of the qualities that were used during the campaigns of herald President Buhari in 2015 was that, as a General, he will know how to tackle security challenges. But from 2015 up till now, we have seen escalation, rather than reduction of the crimes. Why?
You can see I am telling you that his credentials as a General have not translated into providing security for the country. I see him as a father figure; as one as I always respect and one that I revere. But it is unfortunate that this country is falling into pieces. The kidnappings that used to be in the South-East and South-South is now in the North and it is coming down to the south-western part of Nigeria with a lecturer being kidnapped and about N6 million paid to get him out. The chairman of the universal Basic Education Board (UBEC), Dr Mohammed Abubakar, was kidnapped along Kaduna/Abuja. N60 million had to be paid for him to get out of it.
Right now as I am talking to you, I receive calls from constituency everyday about somebody being kidnapped. They call me to send money to them for them to free him from kidnappers as ransom. At a point, one person called me from Giwa Local Government Area to tell me that his brother has been kidnapped in Rijara, a village that is notorious between Kaduna and Abuja for kidnapping and the people who called him are Fulani men. They told him that it is either he pays this money to rescue him or they are going to kill him. This is the kind of pressure.
The kidnappers and the bandits have even upgraded the level of their atrocities and heinous crimes to the audacious point of sending massages to villages that it is either you paid this or we are going to raid such a village. There is a village called Kuriga in Chukun Local Government Area where they virtually pay taxes to kidnappers.
Between Kaduna and Abuja, how come a country, a regional and continental power like Nigeria, cannot deal with simple cases of bandits and kidnappers. Kaduna and Abuja is almost hundred and something kilometres and we cannot secure that route to the Federal Capital City. There are three villages along that route that habour criminals. If we are serious about this, we can actually work on it.
When I talked about using drones, they said drones are expensive and I asked, what is more expensive than human life? If we don't use drones, satellite navigation equipment, ICT or interceptors, there is no way we can tackle the problem of insecurity in the northern part of Nigeria and in other parts of it.
If you happen to meet President Buhari now, what direct message would you give him on insecurity?
What I am telling him is that he has lost his goodwill and people are dying right under his nose and under his watch and he should know that the reason for bringing him into power is the belief and confidence in the heart of the poor people that he can protect them and he can protect the whole country.
Unfortunate these are not things that people say when they meet the people in power. We must tell them the truth; hold them to account and let us fight banditry, insurgency, herdsmen and religious crisis as they are fighting corruption. Corruption is not the only problem in of Nigeria. What use are the security agencies fighting corruption when people are dying in thousands every day? Are you only elected to fight corruption? You are elected to protect lives and properties of the citizens. We should not hide our inefficiency, failure, incompetence and incapacity under the guise of fighting corruption. We have a lot of things to fight.
You would have spent four years in the Senate. How would you describe your experience?
It is quite an experience. As an activist, you have written a lot about me even when I was in prison and you have covered my own stewardship here. You are witness to a lot of things, but what I can tell you is that in politics, if you are elected into office and then you choose to toe the part of serving the interest of one person or a clique, you will lose relevance in the eyes of the people. If you choose to serve the people, represent the people and speak truth to power, you are likely to be in confrontation with the powers-that-be. I have not lost faith and I have no regret. I am very much confident. Go to my constituency. I may have been rigged out of office, but go and get the feelers of my constituency. I can walk to the market, walk to the streets and live in my house comfortably. I can go out of my house without anybody stoning me.
So, as far as I am concerned, I have served my people by representing their interest and by damning the consequences of whatever is going to happen. I stood for my people; I spoke for my people; I protected my people and I confronted the enemies of my people.
You must have learnt that real politics is different from activism during this period. How would you describe that?
There are lots of things you learn in politics. In activism, when you decide to do something, there will be faithfulness, determination and commitment of all. But in politics, there will be treachery, backstabbing, deception and lies. In politics, many people are forced to live lives that are not their own. Many people are forced to do things which ordinarily they would not do. Many people are forced to live with people and interact with people whom ordinarily they would not interact with. So, I have learnt that the lessons of politics are different from that of activism.
Those lessons and particularly looking at our politics, are they likely to take us somewhere in the region of development soon?
I don't think that we are heading towards the politics of development. I think the politics that exist today is one of loyalty. People are upgraded and promoted in politics, not for their performance, but for their loyalty and can be removed out of office, not for their incapacity and incompetence, but for what is perceived as disloyalty. Now, we have reached a point whereby the dissent is equated to disloyalty. This is the kind of politics we live in and it is inimical to the future of our country. A developing country like ours should always protect those who are competent and capable and it should be a result-oriented system; one that would ensure that only people that will deliver and are capable are in position of power.
But you can see that many people who are removed from positions of power today are removed, not because they are incompetent, but because they are independent-minded and they are also outshining others. The politics we play is one in which you want a person who will kneel down before you, lick you boot, tell lies before you, deceive people because of you. They will always say yes to what you say; always do what you want and always become deaf and dumb to everything that is contrary to the interest of people who wield power.
The Senate has been described, particularly by the All Progressives Congress (APC) as a cantankerous one that was in conflict with the executive and did not allow the executive to perform its duties or to excel and so it does not want the incoming Senate to be like that. Do you agree with that view?
The executive wants a rubberstamp Senate. We have been able to stand on our feet to defend the independence and sanctity of the parliament and also confront power. This Senate will go down as one that has defended the sanctity and independence of the parliament and that also held the executive to account and kept them on their toes. If you have a rubberstamp Senate, you are going to have a dictatorship in the country. That is something which we stopped and that is something which is good. If the ninth Senate decides to be a rubberstamp Senate, certainly, Nigerians will turn against them.
 You don't see the conflict between the executive and the legislature as something that retarded progress…
It is good because it protected democracy. They wanted to pocket the parliament and turn everybody into a puppet and a lackey and the fact that we resisted that and fought it has now made so many of us to pay the price for that resistance. But one thing is that we can hold our shoulders high, go to any place and speak anywhere that we did our jobs as men of conscience and noble persons.