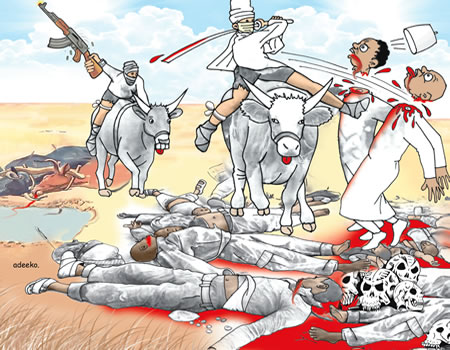 Which kind of security improvement and intelligence-sharing in our country are you talking about if a district head can be slaughtered easily without challenge or protection in his domain while some policemen responsible for the protection and ensuring security of lives and properties are running to save their own lives?
Advertisements
Which improvement of security are you shouting about when our hitherto peaceful and secure borders are now porous, giving easy access to bandits, illegal importation of arms and hiring of mercenaries? These are being carried out with impunity, without anyone apprehended.
Ganduje's pointless 'pentarchy'
The bandits who attacked Balle, a peaceful town in Gudu Local Government Area of Sokoto State, operated with impunity with the assurance that no security force would deter them or confront them. They killed the district head, known as Sarkin Yamman Balle, Alhaji Ibrahim Aliyu, after dragging him from his house.
Even with the way they attacked the police station after shooting a Mobile Policeman and setting cars ablaze, one may easily say those criminals, riding on over 10 motorcycles, were apparently conversant with the security lapses and poor coordination of our intelligence services.
The police station is only 500 meters from the residence of the Sarkin Yamman Balle. I knew him for over 35 years. His family lived a stone's throw from our family house around Gandu, Sokoto town. He was a humble, jovial, generous and very dedicated leader.
Even before the Bafarawa administration created that district and subsequently he was made the district head, we were together in the defunct Social Democratic Party (SDP) and later Peoples Democratic Party (PDP). He abandoned politics to work as a traditional ruler of his community, which consists mainly of Fulani and Hausa people.
Prior to the latest attack, there were clearly ominous signs in the air. A few days ago, bandits in tens attacks Bafarawa and Kamarawa, as well as some other towns in the eastern part of Sokoto State. And then, in yet another commando style, they have attacked the western part of the state. Terrible things are happening around us, nothing tangible to overcome such challenges.
May Allah continue to guide our leaders in order to bring a lasting solution to this menace.
Yusuf Dingyadi,
Sokoto
The post Banditry in Hausaland: Another monarch down appeared first on Tribune Online.