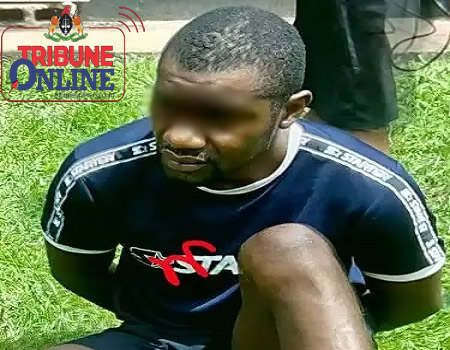 THE police on Thursday in Benin explained how a suspected serial killer, Frank Ikhuebor, 37 who stood accused of murdering 38 persons was arrested.
Advertisements
According to the Edo State Police spokesman, Mr Chidi Nwanbuzor, Ikhuebor, a suspected cultist was on an assignment to kill a member of a rival cult group when he was apprehended by policemen.
Nwanbuzor said that the suspect told the police during interrogation that he was on a mission to kill his 39th victim, John Osasumwen Evbuomwan with two cut-to-size single barrel guns carefully concealed in his trousers, when nemesis caught up with him and was arrested on April 23, 2019.
He added that during interrogation and subsequent search of his residence, one cut-to-size double barrel gun was recovered by the police.
He said: "The Command had on April 23 arrested one Mr. Frank Ikhuebor, a cultist and serial killer who was on a mission to kill one Mr. John Osasumwen Evbomwan.
"Thereafter he was taken to the State Criminal Investigation Department (SCID) where he made a statement and confessed to have killed 38 people."
Ikhuebor however vehemently denied, insisting that he was formerly a killer in Neo Black Movement of Africa, otherwise known as Black Axe but had since renounced his membership of the dreaded cult group four years ago.
He disclosed that he was at present, the Vice-Chancellor chairman of the local vigilante in the Asoro neighbourhood of the Edo State capital and was on the beat, looking out for criminals when the police swooped on him.
The suspect insisted: "I was a butcher in Black Axe but I renounced my membership four years ago. I swore to an affidavit in court which was even published in the newspaper.
"I am now into barbing and selling of compact discs. I have a big shop. I am planning to marry soon."
The chairman of the vigilante group in Asoro was quoted to have denied him as a member.