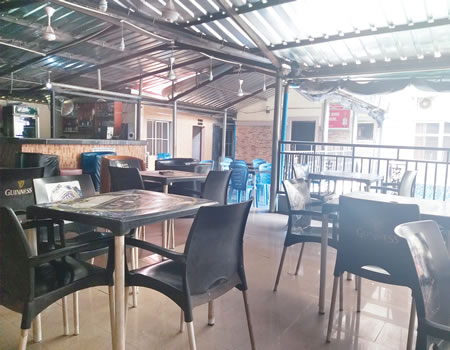 caramelo is one of the liveliest nightclubs in Abuja. Until recently, it was always busy. Virtually all taxi drivers in Abuja know this club because once in a while, they had conveyed passengers in and out of the place of entertainment.
Advertisements
On Thursday, however, Caramelo was an empty structure where little or no activity was happening. Fun seekers, especially the women, avoided the place for fear of being arrested.
Nightlife in Abuja has continued to boom with a lot of fun seekers trooping out to enjoy themselves but stakeholders have expressed concern that if security agents continue raids on nightclubs, the future of club business in the nation's capital is under threat.
The police, in two separate operations, raided some nightclubs in Abuja where about 100 women who were accused to be prostitutes were arrested.
Meanwhile, reactions have trailed the arrests with Nigerians wondering why women were the only ones picked up by the law enforcement agents. Some people described the arrests as discriminatory, arguing that if those women were truly prostitutes, there must be men who patronised them.
Saturday Tribune visited Caramelo, located at Utako, Abuja, where 34 strippers were arrested in April. The whole environment was deserted. The first thing that was noticeable there was the fence demolished by the Development Control of the Federal Capital Territory Development Authority (FCTA), just after the club was raided.
When Saturday Tribune interacted with one of the barmen, he revealed that their business had been crippled by the raid. The barman said women had desisted from coming to the club after the incident. The man, who pleaded for anonymity, said the security agents were after strippers who they believe were causing nuisance to the public. Despite the raid, the barman told Saturday Tribune, men had never ceased to patronise the club at night even when the women were nowhere to be found.
Obviously, one of the major businesses that thrive at night is taxi business. Taxi drivers convey these fun seekers from clubs to clubs till dawn.
But with the recent raid at Caramelo, some of the taxi drivers who ply that route at night lamented that after the incident, business is no longer as usual, as there has been a remarkable drop on the number of passengers going in that direction.
Saturday Tribune's correspondent boarded a taxi from Caramelo to another location and the driver, an elderly man, told him that after the raid, the number of passengers he usually carried reduced. He said in the night, they always had enough passengers to carry from Caramelo to other locations and vice versa, but with the recent incident, the number of passengers had dropped drastically.
Meanwhile, when Saturday Tribune visited Eden Garden at Utako, another popular place where fun seekers besiege at night, normal activities were going on there. The management appeared to be proactive as they ensured that prostitutes were not allowed in the premises or permitted to hang around its entrance. It was observed that the security agents arrested any woman who came close to the premises dressed provocatively.
The head security man on duty at the time Saturday Tribune visited said in Pidgin English that any girl seen hanging around would be chased away. According to him, they asked girls to stay far away from the 'Garden.' "But if girls come with their husbands or boyfriends, they would be allowed to catch their fun, as far as they are not dressed provocatively," he added.
Kubwa, a suburb of Abuja, is still a safe haven for clubs and lounges as the police have not extended their raid to the area.
Nightlife in Kubwa is not threatened yet as both men and women who dress provocatively are found in various clubs and lounges catching fun without fear of arrest.
Stanley Arua, the manager of Kelly Para Lounge, said if the recent trend continued, the future of club business in Abuja would be jeopardised. He said although the security agents were going after strippers, it was important to note that once customers start getting harassed by security agents that should protect them, they would feel threatened and may desist from nightlife, which would be bad for club and lounge owners in Abuja.
"Businesses like club and lounge promote lifestyle so, at a place like Kelly Para, you will definitely see a lot of girls who are our customers. So, it is very obvious that there will be ladies. So, the issue of policemen arresting girls, I have been hinted that it is just about strippers clubs. Maybe they are trying to curb a particular menace but we have not had such an experience here because we don't run a strippers' club. But concerning business, police harassing customers is not good for business, even though the customers need security. But when the same security men threaten their space, they wouldn't want to come around, and sales will drop. The issue we have with law enforcement agents is that they may end up exploiting these girls, thereby turning them to victims. Prostitution is the oldest profession in the world. You can't stop people from patronising prostitutes," Arua said.
The raid came as a surprise to club owners. Although it was not the first time attempts were made to undermine their businesses, coming on the heels of a failed effort by the administration of Senator Adamu Aliero, during the tenure of the late President Umaru Yar'Adua, no club operator believed a repeat could come so soon.
Under Aliero as minister, the Federal Capital Territory had ordered all clubs to close at 7.00 p.m. The Federal Capital Territory Administration at the time believed that morality should be the hallmark of the fast-growing federal capital of Nigeria.
But nightclub and park owners got together before operatives of the Abuja Environmental Protection Agency could gather steam to enforce the order. They filed a suit in court and got an order stopping the FCTA from closing all parks and clubs by 7.00 p.m.
Since 2009 when the Aliero's order was foiled, nightlife had grown in leaps and bounds in Abuja. It has taken a life of its own with the high and mighty as well as the lowly and not so lowly patronising almost on a daily basis. A lot of businesses have also grown alongside nightlife, club and parks. There is the food and beverage business. There are also strip clubs and other kinds of entertainment centres. There are stand-up comedians, live band performers, roasted fish makers, roasted chicken sellers and smoothies.
A nightclub operator told Saturday Tribune that in the wake of the recession that hit the country in 2016, club business was badly affected. One of the clubs, which he said used to remit at least N7 million after major activities had its sales dropped to less than N1million.
That could be a testament to how far the businesses have permeated life in Abuja. But it has also become an avenue to provide employment for unemployed women.  It was gathered that a number of women who operate at the strip clubs do so because of the understanding that customers are not permitted to touch them sexually in the course of their business.
"One of the standing rules of stripping is that no customer is allowed to have any unwanted sexual contact with a stripper in the course of her activities. She could dance, rock the customer to whatever level, all is regarded as entertainment," an operator of one of the clubs said, adding that prostitution is not in any way linked to stripping and that some married people could partake in such act because sex is not part of it.
But the raid last week of the nightclubs leading to the arrest of some 73 suspects by men of the Abuja Environmental Protection Agency is becoming an albatross for the nightclub operators and customers once again.
The post Police raid: Club business is threatened, operators cry out appeared first on Tribune Online.