After daughter's attempted suicide twice, distressed mother cries for help
Favour Boluwade / 2 hours ago
Advertisements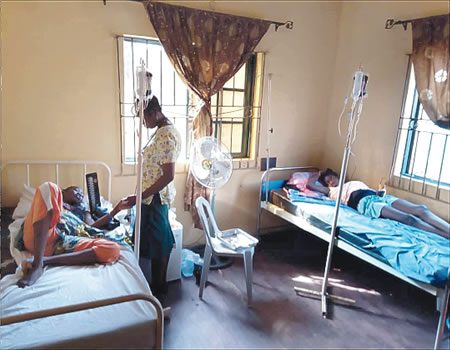 Children, "the heritage of the Lord" are gradually becoming the source of tears and sorrow for Mrs. Felicia Oyebola Atolagbe as she has been carrying the burden of three Sickle Cell children for years without any hope in sight.
Mrs. Atolagbe, who hails from Ekan Meje, Oke Ero Local Government of Kwara, but working in Lagos is in distress and pains. Last weekend, she decided to reach out to the media to help amplify her anguish over the cross she has been carrying for about 20 years.
As she spoke, her voice was shaken and she had eventually burst into tears. The conversation later continued after about an hour when she regained her composure.
According to her, she got married to her husband, Rufus Atolagbe, about 21 years ago and had hoped for blissful years ahead as a new couple. The dream, however, crashed as it started. The three fruits of the marriage: Precious (20), Praise (18) and Paul (13) all carried the sickle cell anomaly.
Since then, it has been trouble, pain and stress for the parents and the kids.
The father, Rufus Atolagbe, who was working with the Power Holding Company of Nigeria, (PCHN) and who has been largely responsible for the upkeep and the medical expenses, was consumed in the privation of the organisation in 2015 as he was among those laid off.
The cross has since then been placed on the shoulder of the wife, Felicia, alone who has been facing what she described as an uphill task of meeting the children's medical and educational needs.
Precious is a 500 level Law undergraduate of Ajayi Crowther University, Oyo, Oyo State. She has been in and out of hospital and has undergone exchange blood transfusion. She has been on admission since January 3rd 2019. She was on oxygen for days and she was transfused severally. She had attempted suicide twice, but was saved by Providence.
Praise who just finished her secondary school was recently discharged from the hospital after she had a surgery for appendicitis. It was not a minor operation considering her status, she had to be transfused.
Paul is in Senior Secondary class and currently, he has been in and out of hospital.
Apart from his jobless status, her husband, Rufus, also has a serious health challenge (Displaced Spinal Disc), thereby confining him to routine physiotherapy session at the Orthopaedic Hospital, Igbobi, Lagos.
All these have forced the poor woman to cry out to Nigerians for financial assistance and prayers. In her Save my Soul letter to her country men and women, she maintained that she is a woman who desires to see her children survive these crises and fulfil their dreams.
"My husband and I have not been able to cope again with the demand of the crisis of their health expenses. I am writing this letter with a lot of pain in my heart and tears. I don't want to lose these children no matter what," she said.
According to her, she currently incurred a huge amount of debt in hospital bills and outstanding school fees and it is becoming increasingly difficult for her to bear these burdens alone.
"Presently, I am so depressed and traumatized and that is why I am reaching out to fellow Nigerians to help me lift this cross that I have been carrying alone and silently for years," she added.
Considering the recent ordeal of her eldest child, Precious, she said she is afraid she might just lose her because she is not getting the required medical attention due to "our present financial situation."
"Considering the presently ordeal of the children and my financial handicap, I am really scared about their lives. But I want them to live," she said.
To render help, contact her:
Felicia Ayoni Oyebola Atolagbe
0803 716 4624
ayoni_atolagbe@yahoo.com
Bank Account: Atolagbe Felicia: GTBank: 00 07 18 71 56
The post After daughter's attempted suicide twice, distressed mother cries for helpappeared first on Tribune Online.